This week, I am very busy with another project, so I'm doing a simple write up (for me). This one is from the best comic book story ever told-
Kingdom Come
by Mark Waid and Alex Ross. I'll do this entire story-line in time, but here's my favorite, Superman.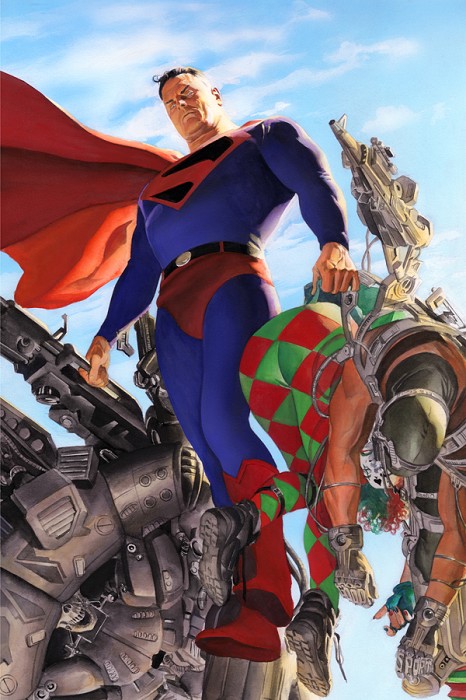 SUPERMAN
DEX

14

STR

28

BODY

28

Alter Ego

INT

11

WILL

18

MIND

12

Kal-El

INFL

9

AURA

17

SPIRIT

10

Motivation

INIT

44

WEALTH

5

HP

175

Responsibility of Power

POWERS

Directional Hearing: 10, Extended Hearing: 10, Flight: 15, Heat Vision: 16, Invulnerability: 28, Microscopic Vision: 15 (This is fine enough to see radio waves and light particles, allowing Superman to see radar and sonar), Regeneration: 15 (Only works if exposed to bright, pure yellow sunlight), Sealed Systems: 20, Solar Sustenance: 25, Super Breath: 12 (Super Cold), Super Hearing: 10, Superspeed: 8, Systemic Antidote: 28, Telescopic Vision: 15, Thermal Vision: 15, X-Ray Vision: 15

SUPERMAN'S POWER STUNTS

Superman can Power Stunt his Strength to create the Shockwave power by stomping his foot or clapping his hands. This costs 1 HP per AP and does not cause a Burnout.

Superman can also Power Stunt Superspeed to create the Digging power by spinning like a drill. This costs 1 HP per AP and does not cause a Burnout.

Superman can Power Stunt his Flight to create the Air Control power. This costs 1 HP per AP and does not cause a Burnout.

SKILLS

Charisma: 9, Detective: 7, Scientist: 10, Vehicles: 7

ADVANTAGES

Area Knowledge (Metropolis), Artist (Journalist, Writer), Attractive, Expansive Headquarters (The Fortress of Solitude- see below), Insta-Change (Superman changes so quickly it is as good as instant), Indestructible Costume, Iron Nerves, Leadership, Lightning Reflexes, Longevity, Sharp Eye

CONNECTIONS

High- JLA, Wonder Woman, Green Lantern (Alan Scott), The Flash (Wally West), Hawkman, Red Robin

Low- Batman, Lord Orion, Green Arrow, King Arthur Curry

DRAWBACKS

Altered Biology (Near Human), Arch Enemy (Lex Luthor), Authority Figure (To the super hero community), Guilt (Over the death of Lois and the staff of the Daily Planet), Catastrophic Irrational Attraction to protecting life

ADVANTAGES and DRAWBACKS

Before the events of

Kingdom Come

:

Superman has a High Connection to Wonder Woman only and no connection to anyone else. He has the Pet (Krypo) advantage. He has the Exile (Voluntary) drawback and does not have Authority Figure.




Following the events of

Kingdom Come

:

Superman has a High Connection to Batman and the Pet (Krypto) advantage, He has the Married (Wonder Woman) drawback.

VULNERABILITIES

Attack Vulnerability (-2 CS vs. magic; Conversely, when attacking mystical beings or magical defenses, Superman suffers a +2 CS to all OV/RV)
SUPERMAN'S EQUIPMENT
THE FORTRESS OF SOLITUDE [BODY: 18, Lab: 12, Security: 14, The key to the Fortress weighs 24 APs and it is guarded by Krypto]
FORTRESS COMPUTER [BODY: 8, INT: 14, WILL: 10, MIND: 12, INFL: 6, AURA: 5, SPIRIT: 6, Gadgetry: 8, Medicine: 8, Scientist: 8, Recall: 24, Radio Communications: 24, Illusion: 12 OR Super Ventriloquism: 12 (Only used to project the Hologram or the Voice of Jor-El), Scholar (Kryptonian Culture, Geography, History, and Science), Split: 6, R#2] The interface of the Fortress Computer is either a hologram of Jor El

or his voice and it is programmed with his memories and personality.
Phantom Zone Projector [BODY: 18, Dimension Travel: 25 (Power Linked to Warp, Phantom Zone only), Warp: 25, R#2]
KELEX [DEX: 6, STR: 5, BODY: 5, INT: 8, WILL: 8, MIND: 8, INFL: 1, AURA: 1, SPIRIT: 1, INIT: 15 (26), Flight: 6, Radio Communications: 18 (Allows Kelex to download a split of the Fortress Computer), Stretching: 2 (Only used to stretch arms), Radar: 12]
KAL-EL'S SPACESHIP
[BODY: 13, Flight: 40, Sealed Systems: 23, Recall: 20, Solar Sustenance: 23 (Only used to keep the child within alive)] In the Silver Age, the infant Kal-El was wrapped in indestructible blankets that later became his uniform (see below).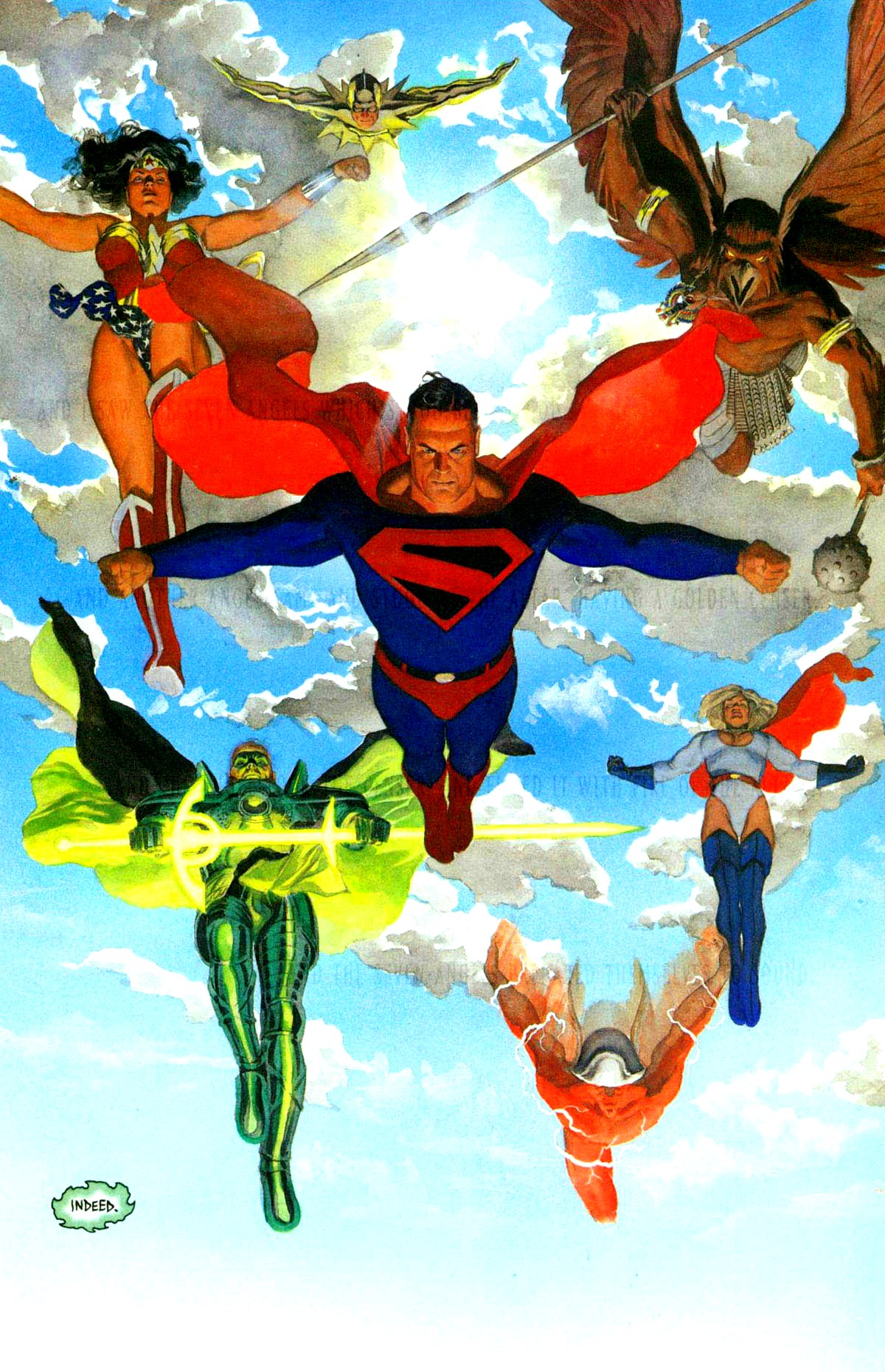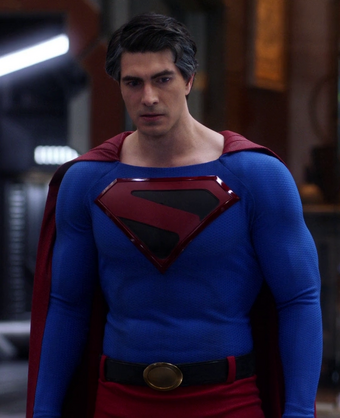 Still the best post-Christopher Reeve Superman!



I know, I know- I'm supposed to say that Watchmen is the best comic book tale ever told. I hold it in very high esteem, to be sure, but I think Kingdom Come is better. Far better.